How do I generate traffic on Facebook
How to turn your Facebook page into a traffic machine
Contribution by Julia Recker
Many entrepreneurs struggle with a low reach on Facebook. Your own content only reaches a fraction of people, posts are not liked, commented on and certainly not shared. The hoped-for traffic en masse from Facebook to the company's own website will of course not be achieved. Are you one of them? It does not have to stay like this! In this article I will explain where the problems of your Facebook page are and how you can use 7 simple DO's and DONT's to bring more potential customers from the social network to your website.
Why is there no traffic from Facebook to your own website?
Your Facebook page probably has few fans. But that is not necessarily the main problem. Much more important for you is the reach of your posted content - after all, you want as many potential customers as possible to see it.
The reach increases with every interaction on your page. Interactions are likes (the user clicks the "Like" button under a post), comments and when a post is shared (so-called "shares"). Actually logical: If a person shares your post, the friends of that person will see it and the reach will increase as a result.
Another interaction is clicking the link in your post. Often times it leads to your own website or one of your blog articles. And that is probably the most important interaction, because most likely your main goal is to bring the potential customers of Facebook to you.
Since only a fraction of those who read your post also click on your link, you need a high reach. If you miss the interaction mentioned above, the desired traffic will not be received. But why aren't readers interacting with your content?
Your content bores readers
In most cases, the aforementioned problems can be bundled into one main reason: You are not offering the fans of your Facebook page any added value or not enough value through your contributions. Without added value, there is no incentive for the viewer to get closer to you as a person, your offers or your company. After a first quick look at your Facebook page, he's gone immediately and will most likely never buy anything from you or recommend you to others.
Increase interaction and increase your reach
The solution can be quickly derived from the problem: Offer your readers added value! I will first explain how you can do this in 7 simple DOs and then there are another 7 simple DONTs. You always have to keep one thing in mind: For example, Facebook as an independent platform and don't see the social network solely as a reflection of your blog or website.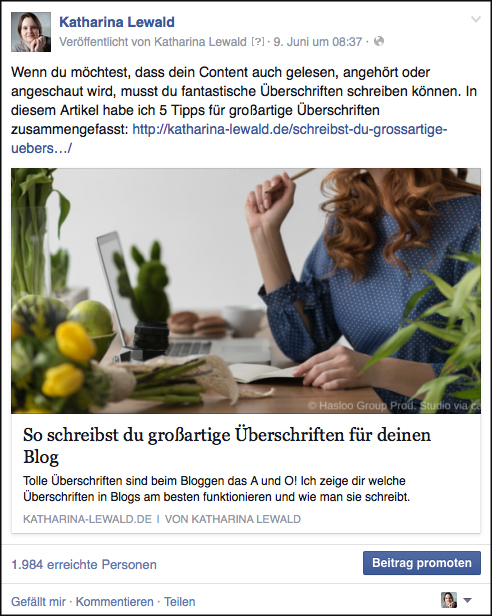 First of all, as a motivation, a little insight into our own Facebook statistics. With 1,984 people reached, this post was seen by significantly more than the current 949 Facebook fans. There is a lot of work behind it and that is impressive :)
Before we start with the DO's and DON'Ts, here is a video from Katharina. In the video, she gives you a tip for a free tool that you can use to analyze your Facebook page:
By loading the video, you accept YouTube's privacy policy.
Learn more
Load video
7 simple DOs
# 1 Recommend content from opinion leaders
By sharing other people's articles that have been of use to you, you are passing on great tips to your readers. You will be happy about it. You also show that you are constantly educating yourself in your field and that you are always informed about the latest trends. With the @ function of Facebook you can address the person who wrote the content directly and draw attention to you. Over time, you will automatically network with influencers (opinion leaders) from your industry.
# 2 Use meaningful images
In social networks in particular, people are almost magically attracted to visual content. You probably know that yourself: A short text under all the posts in the newsfeed allows you to scroll over quickly. A meaningful picture, on the other hand, catches the eye and is captivating. Once you have caught the user's attention, you have already overcome the first major hurdle. Did you know that you only have two seconds to grab other people's attention on the web?
# 3 Ask questions in your posts
By nature, people prefer to answer a question rather than a statement. Questions lead to interactions, and those in turn bring your posts the much-needed reach. Apart from that, you can use questions on Facebook to do a little market research. Ask your readers what their problems are or what content they particularly like.
# 4 Always reply to comments
If you have asked a question and receive an answer in a comment, be sure to respond to this comment. Let a kind of conversation develop and do not break off the contact once established. But you should always respond to comments that contain praise, for example. Thank you for the compliment, you would do that in real life too. The same goes for negative comments, by the way. Don't leave them uncommented in the room. Answer here factually and it is best to take a little time with your feedback. Do not act in an affect, you will probably regret it later.
# 5 Create your own editorial plan for your Facebook posts
Sitting in front of the computer every day and pondering what you could post on Facebook today takes a lot of time. In a detailed article, Katharina has already explained to you how to create an editorial plan for your blog. Do the same on Facebook. It is best to plan your contributions at the beginning of the week for the next seven days. This saves you a lot of time and has one less worry a day. Of course, there is nothing wrong with further spontaneous posts. Read also Katharina's article:
How to maintain your Facebook page without giving up your private life
# 6 Play around with the different types of posts
Nobody likes monotony, not even on a Facebook page. I already explained why visual contributions are so important under # 2. However, just posting one picture every day will not produce the desired effect. Keep changing the shape of your content to make it more engaging for your readers. Facebook offers you several functions for this. You can post plain text, pictures, videos and link posts. Special forms are emotions, places, offers, milestones and events. Make the most of these opportunities to add a little variety to your posts.
# 7 Write something personal too
People are often not only interested in a product itself, but also in the person who is behind it. So show your readers your personality every now and then so that they can get to know you better and build trust. This doesn't mean that you should post your breakfast. Tell about what made you particularly happy in your day-to-day work or what may cause you concern. It's human and gets readers' attention.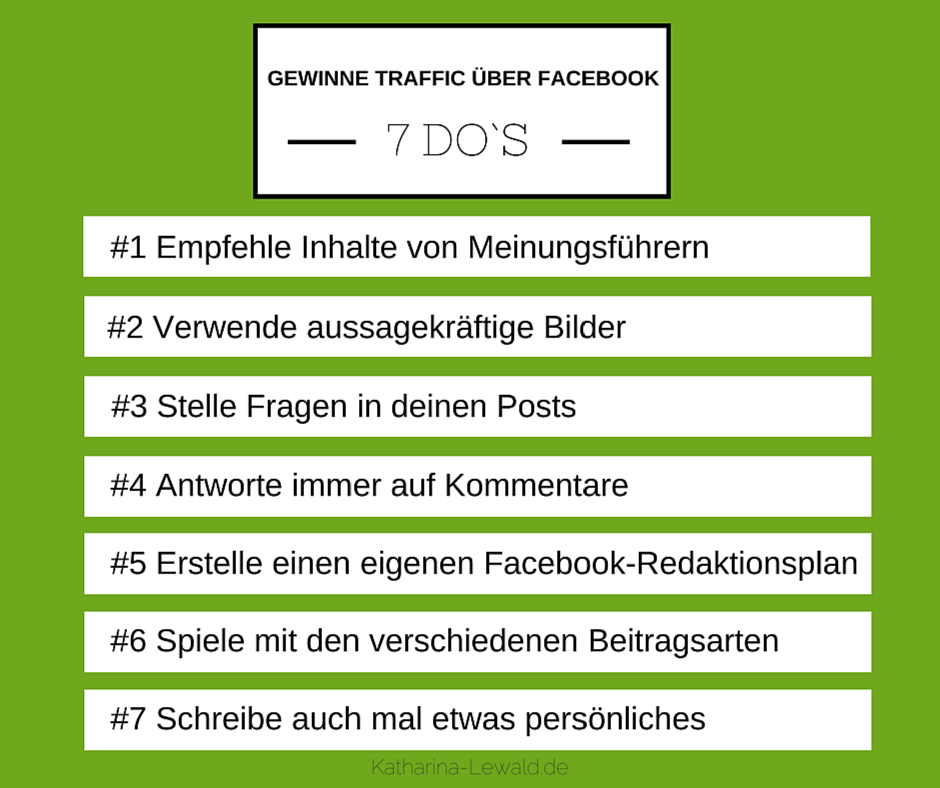 7 simple DONT's
# 1 Don't use Facebook as a left spin
Don't just advertise your own posts and products - the emphasis here is on "exclusively". It's annoying, offers no added value and is certainly not varied. Share your own links carefully between the rest of your posts. You can find a great example of how you can cleverly package self-promotion in Katharina's guest article on Mama Revolution:
7 Simple Tips: How To Make Your Facebook Page Your Best Seller
# 2 Don't let your fans sit dry for days
Your readers would like to hear something new from you every day. Make this wish come true for them. Only if you keep repeating your posts in their thread will you be remembered by them. It also deters potential new Facebook fans if the latest post in your timeline is already a few weeks old.
# 3 Don't post at the worst possible times
Once again you can't sleep and are surfing on Facebook at 3 a.m. when you get a brilliant idea for a new post? Don't publish it! Hardly anyone will read it at 3 a.m. Most interactions happen in the first 15 minutes after posting. The next day, the post quickly slipped far down in your fans' newsfeed. Use the "Plan" function of Facebook to publish your idea at the best possible time. The best time to post depends on your content and a few other factors. There is no one-size-fits-all answer here like "10 am is the best time to post". Try different times and keep an eye on the statistics.

# 4 Don't just share on your own Facebook page
The reach that you can achieve via your own Facebook page is usually limited. You can quickly increase this number with a simple trick. Find thematically appropriate Facebook groups in which your target group romps. Share your posts there as well. Don't just post a link; include the members of that particular group in your post. You can position questions here particularly well, as "experts" from a certain area usually gather in such Facebook groups. Always pay attention to the rules of the respective group! In many groups such advertising is now undesirable because some people have unfortunately overdone it. The principle of give and take is very important here. Don't always expect something in return from the group members, but support in return where you can.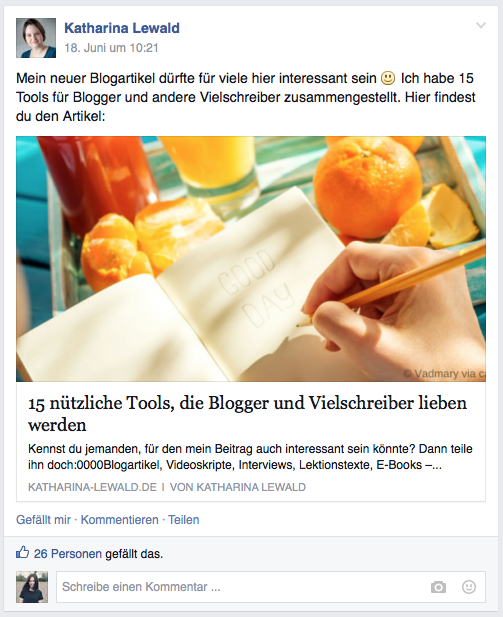 # 5 Don't be a spamer
Don't annoy your fans with too many posts. Too much is just too much. The best thing to do is to keep an eye on how many posts per week or per day are doing well for you. Again, there is no general answer as to which number of posts is the best, it differs from Facebook page to Facebook page.
# 6 Don't write too complicated
On Facebook, "you" is now the norm. Treat your Facebook fans more like good friends whom you want to give useful tips through your posts. Always pay attention to the choice of words of your target group. How do you name certain things? Use these terms in your own posts instead of foreign words that your readers will not be able to use.
# 7 Don't post content without a thematic reference
Actually logical and yet worth mentioning. Everyone loves cute cat photos and they may bring you a lot of likes. But do they also bring you your dream customers? Probably not. You should stretch out your feelers a little and also include other topics in addition to your core topic, but always make sure that a bridge can be built to your remaining content and that individual posts do not appear completely incoherent on your page.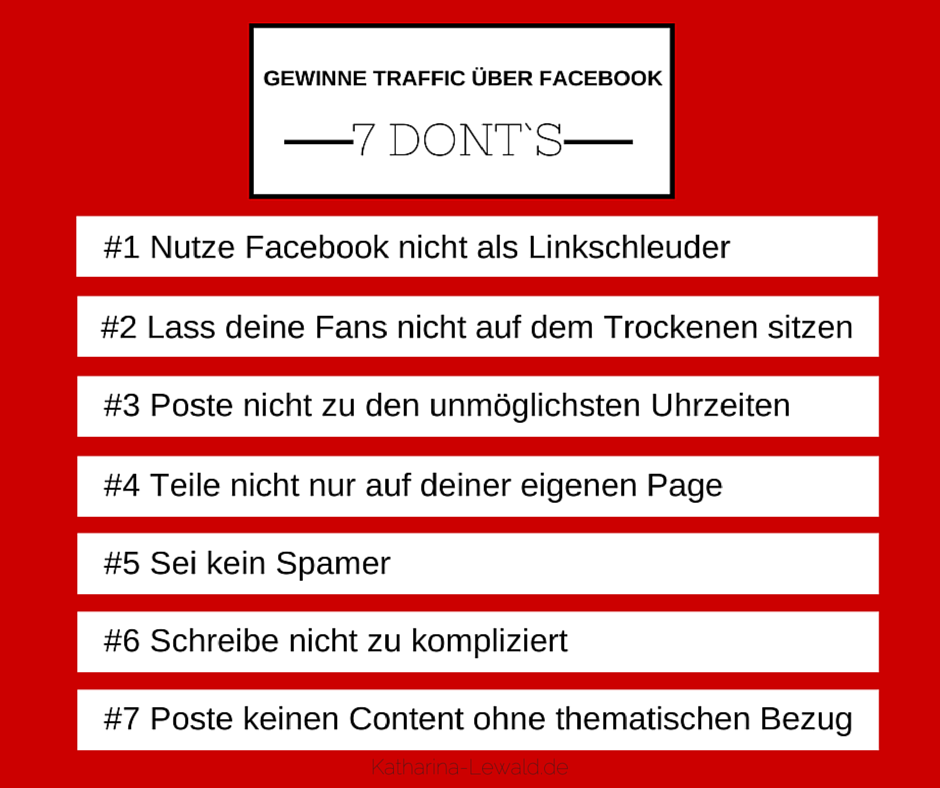 Get started today: increase your range!
The reasons why some Facebook Pages do well and others don't are often very different. In many cases, the simple rule is: try it out. If you stick to the 7 DO's and DONT's, your range should increase quickly.
What experiences have you had, what works particularly well for you? What other problems did you notice? I look forward to your answers in a comment :)
PS: Are you self-employed and want to successfully win customers online? Join my free Facebook group for more tips, suggestions and that extra kick of motivation!