Why the optimal table height is so important
Reading time: 4 minutes

Regardless of whether it is a dining table or desk: the table height has to be right. A desk at the wrong height can - just like an office chair with the wrong seat height - promote back and neck pain, tension, poor posture or even a herniated disc. But the right table and chair height does not only play an important role when working: In order to be able to sit and eat comfortably at the dining table, the optimal height of the dining table and chairs is also important. Which table or seat height is right for you depends primarily on your height. In this article you will find out the optimal height for your desk and dining table to be able to eat or work comfortably and in a back-friendly manner.
The right desk height
Many spend a large part of their working day at their desks. The optimal table height is therefore just as important as the height of the chair on which you sit while working. Whether you want to set the height of your desk correctly at home or want to determine the optimal height of your office table for you: Your back will thank you after a few hours, and especially in the long run.
In principle, it is very easy to determine the optimal table height. An important aspect is the distance between the seat and the upper edge of the table: this should be around 27 to 32 cm. This gives you enough space to cross your legs while sitting without bumping your knees against the table. In addition, when using chairs with armrests, you should make sure that the latter fit under the table and that they do not hit any crossbar that may be on the table.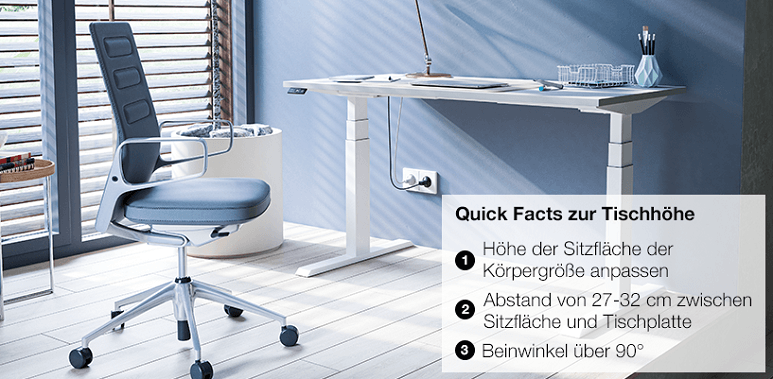 Your height is the most important factor in determining the optimal height for your desk. The DIN standard ISO 5970, for example, recommends a standard table height of 76 cm for a height between 172 and 186 cm. Many high-quality office chairs and desks are height-adjustable and can be brought to the appropriate height. With the help of the deinSchrank.de made-to-measure furniture configurator, you can also plan and have your desk made at the ideal table height for you with just a few clicks. Finally, you simply adjust your office chair to the correct seat height. The great thing about it: You not only determine the dimensions of your new desk individually, but also choose the design and decor according to your wishes!
Below you will find an overview of the recommended seat and table heights:
| | | |
| --- | --- | --- |
| height | Seat height | Table height |
| 113 cm | 30 cm | 52 cm |
| 128 cm | 34 cm | 58 cm |
| 143 cm | 38 cm | 64 cm |
| 158 cm | 42 cm | 70 cm |
| 173 cm | 46 cm | 76 cm |
| 187 cm | 50 cm | 82 cm |
How wide and deep should your desk be?
The standard dimensions for the size of a desk are 160 x 80 cm. Basically, of course, the wider the table, the more space you have to work and for other work material. For example, if you need two monitors, it makes sense to choose a wider table. A depth of 80 cm ensures a sufficient distance to the screen or screens.
From desk to high table: height-adjustable desks
Do you like to work standing up from time to time? Or is your desk also being used by someone else? Then a height-adjustable desk is best. You can turn one of these up or down electrically. The desk height can usually be adjusted between 64 and 130 cm, so that there is the right height for everyone.
To find the optimal height for a high table that you use to work, just stand up straight and bend your arms at a right angle. Then measure the distance between the floor and your forearms. Now you know the optimal height for working while standing. Such an electrically height-adjustable table is ideal if the table is also used by other colleagues. So everyone can easily set the ideal height for them.
Tip: Switch frequently between standing and sitting during work - it's good for your back!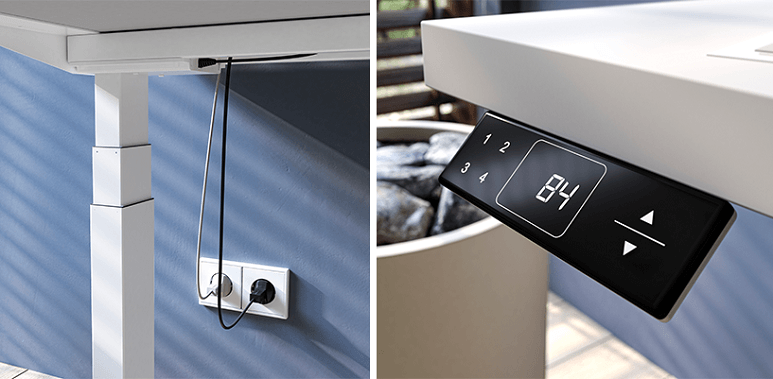 The optimal dining table height and seat height
Several people usually come together at a dining table, so the optimal table height cannot be fixed to just one person - everyone should be able to sit and dine as comfortably as possible at the table. Therefore, you should take an average of the people who mainly use the dining table to find the optimal height for the dining table. Usually the height is between 73 and 79 cm.
As a reminder: the optimal seat and table heights depending on your height
| | | |
| --- | --- | --- |
| height | Seat height | Table height |
| 113 cm | 30 cm | 52 cm |
| 128 cm | 34 cm | 58 cm |
| 143 cm | 38 cm | 64 cm |
| 158 cm | 42 cm | 70 cm |
| 173 cm | 46 cm | 76 cm |
| 187 cm | 50 cm | 82 cm |
Also make sure that there is 27 to 32 cm between the seat of your chairs and the top edge of the table. If you already have dining chairs and just need a new table, it makes perfect sense to align the height of the table with the height of the seat. Do your chairs have armrests? Then make sure to measure beforehand whether these also fit under the table.
How deep and wide should your dining table be?
After you have determined the optimal table height, choosing the ideal dining table for you also depends on the dimensions of the table top. In the case of a dining table, the depth and width should primarily depend on the spatial conditions, but also on the number of people who will regularly sit at it. Plan a width of at least 60 cm and a depth of 40 cm per person - so everyone has sufficient freedom of movement.
Tip: Add about 20 cm to the depth in order to have enough space in the middle of the table top for bowls, pots and decorations.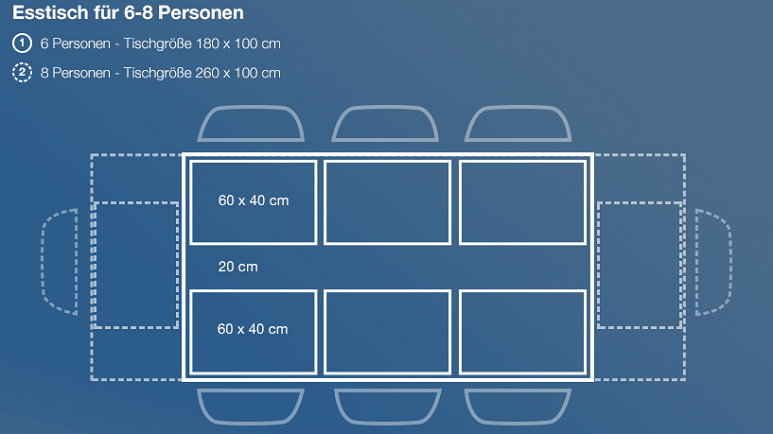 At deinSchrank.de you have the option of designing tables for the kitchen, dining room or study according to your ideas. Plan writing or dining tables individually according to your dimensions and the design that best suits your style of living, your wishes and requirements! Thanks to our assembly service, your new table enriches your home with the optimal table height, without any stress for you.
We hope you enjoy configuring your new table or desk top!
---
Images: Source - deinSchrank.de, pexels.com
By Anika NonnComments deactivated for Why the optimal table height is so important