Elton John was a talented musician
Elton John talks about Freddie Mercury's last days and it might make you cry!
Rock legend Freddie Mercury was one of the greats in the rock business. Flamboyant, eccentric and, above all, incredibly talented, the musician and his band "Queen" delighted fans all over the world. His illness led to Mercury's premature death in 1991.
Check out this post on Instagram A post shared by Muy yo, muy mía y muy a lo mío (@evatorralbo) on Nov 13, 2018 at 5:33 am PST
Elton John: Freddie Mercury from a friend's point of view
Even today, Freddie Mercury is a legend and has influenced the lives and careers of many people. The singer Elton John was a close friend of the deceased and has now revealed touching details about the last days in the life of the Queen frontman in his book "Love is the Cure: On Life, Loss, and the End of AIDS". Above all, he emphasizes how selfless Mercury was even in the face of death and, even in this difficult time, tried to be there for the people around him and to make them happy. Scroll down and read for yourself what a heartwarming story Elton John has to tell that will move not only "Queen" fans of all ages to tears!
An anecdote from the last days of the "Queen" singer
The unexpected death of Freddie Mercury broke many hearts around the world. In his book, Sir Elton John shares with us an impressive story that happened at a time when Mercury was already dying.
Check out this post on Instagram A post shared by Like Queen Band since 2001 (@ elsha_queenband_1999) on Nov 13, 2018 at 5:16 am PST
"Freddie only informed the public of his condition the day before he died. Until then, hardly anyone knew they had AIDS. Even if he was the center of attention on stage and enjoyed it, privately he was a very reserved and discreet person. I had known of his illness since 1987, shortly after he was diagnosed. I was devastated. I had seen what this illness had done to many of my friends and acquaintances, and I knew the same would happen to Freddie. And he knew it too. Death was waiting for him. But Freddie was incredibly brave. He continued to perform with Queen and kept the facade. He was still the fun, kind, and generous person he had always been.
Source: pinterest.com
His condition worsened noticeably in the late 80s and early 90s. It was so hard to take. I could hardly watch this wonderful person being destroyed by AIDS. In the end, his body was covered with Kaposi's sarcoma. He was almost blind and too weak to get up.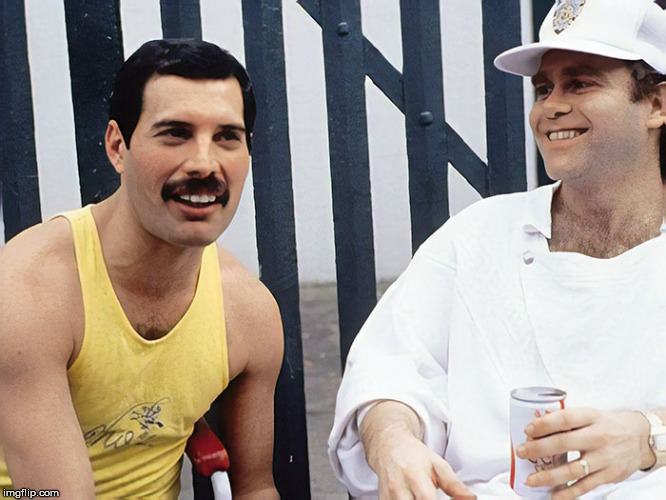 Source: imgflip.com
At that time, one could have assumed that Freddie was primarily concerned with himself. But he wasn't, that wasn't in his nature. He lived for the others. Freddie died on November 24, 1991. I mourned for weeks. Then at Christmas I received one final proof of what a selfless and wonderful person he had been. A friend suddenly stood in front of my door and gave me a present. It was a painting by my favorite artist, Henry Scott Tuke. And attached was a note from Freddie. Years earlier, we'd given each other nicknames for our drag alter egos. I was Sharon and Freddie was Melina. The note said, 'Dear Sharon, I thought you would like this Christmas present. Much love, Melina. Merry Christmas.'
There I stood, then 44 years old, crying like a little child. There was this wonderful man who was dying and yet he managed to get me such a lovely Christmas present. As sad as this story is, I often remember it because it shows what kind of person he was. Even in death he showed again what made him so special in his lifetime. "
Do you think this story makes you cry too? How do you remember the great Freddie Mercury? Tell us in the FB comments.