DECT telephone
DECT telephones are particularly popular in private households, but they are also being used more and more frequently in many offices. Because they give consumers a certain level of convenience that normal desk phones cannot offer them. But what are DECT telephones and what is the electromagnetic radiation? You can find out that and more in this guide.
1. What is a DECT telephone?
1. What is a DECT telephone?
A DECT telephone is a Cordless phonethat uses the DECT radio standard. The abbreviation DECT stands for Digital Enhanced Cordless Telecommunications. The DECT standard was introduced in the early 1990s and determines how the signals are transmitted wirelessly.
Criteria for the purchase decision
Not all cordless telephones are the same. For this reason, we would like to briefly introduce you to the criteria you should pay attention to when making a purchase decision. Because there are big differences depending on the model.
Range
Since cordless telephones work with radio waves, they can only be used within a certain radius of the base station. If the range to the base station is too great, calls can no longer be made. For this reason, DECT also speaks of Standard for fixed cordless telephony. Depending on the model, however, there are considerable differences in range. High-quality devices have an average range of up to 50m in the building and up to 300m outdoors. With other models, however, the radio link often breaks off much earlier. You should definitely take this into account when making your purchase decision. With the use of a so-called Repeaters however, lets you increase the range.
price
Another aspect that should be included in your purchase decision is of course the price / performance ratio. The first question that arises is how many handsets you need for your base station. The cheapest models with a DECT handset such as the Gigaset A415 are already available for less than 30 euros, whereas high-quality devices such as the Yealink DECT SIP-W56H with the associated base station can cost up to 200 euros.
Range of functions
Most innovative DECT telephones have numerous practical functions, such as an answering machine, a telephone book, a calendar function, call forwarding, speed dial buttons, a wake-up call and Internet access. In addition, some cordless telephones can be used as baby monitors, allow a conference call or have a hands-free facility.
Battery life
Battery life is particularly important for frequent users. However, a test showed that the battery life of the TOP phones is slightly lower than that of the cheaper devices. When making your selection, therefore, compare the various cordless DECT telephones in terms of talk time and standby mode. Talk time is typically over 10 hours and standby time is typically 100 to 320 hours.
radiation
Like cell phones, cordless landline telephones emit high-frequency electromagnetic radiation. Although it is still unclear what effects this has on the health of the human body, many people still worry about the radiation. If you have such concerns, you should buy a low-radiation phone (devices with so-called eco mode). More on this under point 6.
Call quality
In terms of call quality, a lot has happened in recent years. With HD-Voice on an IP connection, calls in excellent quality are possible without background noise and delays. So that you can use HD telephony with your cordless device, it must use the G.722 codec and have very good loudspeakers and microphones. It is also necessary that the phone is connected via DECT to a router that supports this function or to a CAT-iq base. CAT-iq is a new standard for DECT telephony that enables conventional telephone applications to be linked to IP networks. It is also important that the call partner's landline phone also supports HD Voice.
With the changeover to All-IP (see point 3), however, there are now also IP-DECT telephones that open up completely new possibilities for you. As an alternative, WLAN telephones are also valid, which only use a different transmission technology (WLAN) and otherwise only differ slightly from DECT telephones (comparison under point 5).
2. Components of a DECT telephone
2. Hardware - This is part of a complete DECT telephone
A conventional cordless DECT telephone consists of:
a base station
a handset as a handset
The DECT base station usually also serves as a charging station for the telephone receiver. In addition, an answering machine is often integrated in the base station. The DECT handset consists of a rather small display, a control pad with which you can navigate through the menu and a number pad to enter numbers.
However, many manufacturers and retailers also offer sets with several handsets, a base station and, if necessary, additional charging cradles.
It is also possible to use multi-cell DECT solutions. They consist of several DECT stations and are particularly suitable for larger companies with huge offices or warehouses. The individual DECT stations are then distributed over a larger area so that larger areas can be covered and the employee can move freely without the phone call breaking off. A prerequisite for this, however, is good DECT coverage.
Use the WLAN router as a DECT base station
Since a DECT base is increasingly integrated into many WLAN routers, such as most Fritz! Boxes, an extra base station is often no longer required. You can connect your handsets directly to the router, for example a Fritzbox, and all you need is a charging station for your handsets. Numerous telephony functions such as the answering machine are also available directly on the router. This solution is definitely recommended for private households. For the business environment, however, it is advisable to use a more professional solution with a handset and DECT base such as from Cisco, Yealink or Snom. These offer better expansion options and, in some cases, a larger range of functions.
Whether it makes sense to connect the handset directly to the router also depends on the connection standard of the two devices. On the one hand there is the DECT standard, which uses the old GAP protocol, the extended DECT standard CAT-iq and proprietary solutions such as those from AVM. DECT telephones are generally offered with their own base, as it can happen that if you only connect them to the router via DECT, basic functions such as call lists, the telephone book and the time display are missing. With devices such as the FritzFon or Gigasets HX telephones, however, the connection is usually possible without any problems as long as the appropriate router is used as the basis.
Many routers even make it possible to operate several cordless DECT telephones in parallel. If there is a DECT button on your router, you can register your cordless telephones directly on the router at the push of a button.
You can find out how to set up your DECT telephone on the Fritzbox in this video guide and in the official AVM Fritzbox guide.
3. Telekom / All-IP conversion
3. News: Telekom / All-IP conversion
Deutsche Telekom's new goal is to complete the All-IP conversion for business customers in 2020. And the other landline providers are also in the process of doing away with their ISDN connections. Vodafone has announced a slightly longer transition period for its customers, but ISDN will no longer be available by 2022 at the latest. And the other landline providers are also in the process of doing away with their ISDN connections. Vodafone has announced a slightly longer transition period for its customers, but ISDN will no longer be available by 2022 at the latest.
We recommend using IP DECT telephones so that you, as a customer, can benefit from all the possibilities offered by IP telephony. Here you should make sure that if you want to use the router as a base station, the handsets can best support the new DECT standard CAT-iq and HD-Voice. We will introduce you to which SIP telephones are best suited under point 7.
4. What is DECT GAP?
4. DECT GAP - several devices from different manufacturers on one base station
Nowadays almost all cordless telephones use the DECT / GAP standard. GAP (Generic Access Profile) enables telephones from different manufacturers to be compatible with one another and to be combined. If a telephone supports the GAP standard, it can be connected to all GAP-enabled base stations regardless of the manufacturer. This enables the user to integrate additional manufacturer-independent handsets into the telephone system. However, it can happen that some DECT-GAP telephones are only compatible with a telephone system of the same brand.
The Placetel cloud telephone system. Known from these media.

5. DECT vs. WLAN telephone
5. DECT vs. WLAN telephone
Just like a DECT telephone, a WLAN telephone is a cordless telephone, but in contrast to a classic cordless telephone, it uses wireless technology based on WLAN. Even if the transmission technology makes the biggest difference here, there are still a few other factors in which differences can be determined. Why DECT is still prevailing against WLAN telephones in IP telephony today, we would like to explain to you below with a precise comparison of the two standards.
WLAN telephone
DECT telephone
Range in the building
approximate Ø range:
10-15 meters
approximate Ø range:
30 meters
Range outdoors
approximate Ø range:
50 meters
approximate Ø range:
150 meters
Voice quality
Lower transmission power: There may be fluctuations, delays and dropouts
A better transmission power results in a good voice quality with much fewer fluctuations
Talk time
Up to 15 hours, on average approx. 5 hours
Up to 30 hours, on average approx. 10-12 hours
Standby time
Up to 100 hours
Up to 400 hours
Power consumption
higher than with DECT telephones
lower than with WLAN telephones


The table clearly shows that WLAN telephony is in many ways inferior to DECT telephony and that it should therefore be viewed more critically, at least at this point in time. So if you have the choice between WLAN or DECT telephony, you should definitely opt for the latter in order to prevent unpleasant surprises such as frequent drop-offs or delays.
6. Safety concerns with DECT telephones
6. DECT security concerns
Whether privately or in everyday office life: DECT telephones represent the perfect basis for daily communication and are becoming increasingly popular on the market. Because they allow the user a lot of comfort and more freedom. That said, there are some security concerns that have made headlines over and over again over the past few years. In the following, we want to show what concerns the concerns and what you can do about the risks.
6.1 Radiation
Researchers and experts repeatedly argue about whether DECT radiation is dangerous to health. However, the Federal Office for Radiation Protection (BfS) gives the all-clear. Accordingly, the specific absorption rate (SAR) decides whether high-frequency electromagnetic fields pose a health risk. The specific absorption rate is measured in watts per kilogram (W / kg) and describes how much radiation power is absorbed by the body tissue in a situation. The absorption of electromagnetic radiation causes the tissue to heat up.
To protect health, the radiation protection commissions have issued recommendations for maximum SAR values. These are 2W / kg averaged locally over parts of the body. Only when certain threshold values ​​are exceeded, which are above these recommended maximum values, do harmful effects occur.
For conventional DECT telephones, a SAR value in the head of less than 0.1 W / kg was determined when the handset was operated at the ear. The recommended maximum value of 2 W / kg is clearly undercut. (Federal Office for Radiation Protection)
If you still have concerns, we recommend using a low-radiation DECT telephone.
6.1.2 Low-radiation telephones: ECO DECT / ECO mode
Low-radiation DECT telephones are often identified by the abbreviation "Eco" and, unlike telephones that are not reduced in radiation, do not emit continuous radiation.
Handset radiation: ECO DECT telephones are usually completely free of radiation when in standby mode. Eco mode can be activated to reduce radiation when making calls. As a result, the transmission power can be reduced by around 20%. This results in a lower radiation exposure. Another advantage is that the handset consumes less power and thus a longer battery life is achieved. However, due to the reduction in the transmission power, the reception quality also suffers to a small extent. This should still be sufficient in a normal apartment, but this could be clearly felt in larger buildings.
Radiation of the base: As a rule, the base sends at any time, even when there is no call being made. However, by activating "Eco Mode +" (or "Full Eco") in the DECT base station, the radio part of the base is deactivated during standby. DECT is only activated again when the phone rings.
6.2 DECT and security - everything encrypted?
Another risk factor that caused an uproar, especially in 2008 and 2009, is the security against eavesdropping on DECT telephones. Researchers warned at the beginning of 2009 that cordless telephones could easily be eavesdropped with special Linux software and a laptop card (PCMCIA card).
Although the DECT standard theoretically provides for encryption of wireless communication, this is not mandatory and is quite expensive for manufacturers. As a result, encryption is not implemented in many DECT devices. In particular, it is often not clear from the manufacturer's information whether a device encrypts communication or not.
However, the Gigaset telephones are used as a model for encryption. Here the manufacturer promises, for example, a fundamentally implemented DECT encryption.
7. DECT telephone - purchase advice
7. DECT telephone - purchase advice
7.1 Special features / news:
If you want to purchase new DECT telephones, you should make sure that they are IP-capable when buying them. This is important because the All-IP changeover and, at the same time, the shutdown of the ISDN network is in full swing.
With a DECT IP telephone you are equipped for the future and enjoy many advantages in connection with VoIP technology. You are no longer tied to your workplace and can benefit from cost savings thanks to the low connection fees offered by a VoIP provider.
If you then opt for a cloud telephone system, there are usually more than 150 professional functions available to you, depending on the VoIP provider. In addition to the standard functions such as holding, toggling and forwarding, you can then use features such as electronic fax, telephone conferences or IVR. With a cloud telephone system, there is no need to purchase hardware. You can also simply connect your mobile phone to the telephone system. In addition, a virtual telephone system offers you maximum flexibility and scalability, so that you can adapt the telephone system to the situation of your company at any time. You can find out more about the advantages in our cloud telephone system guide.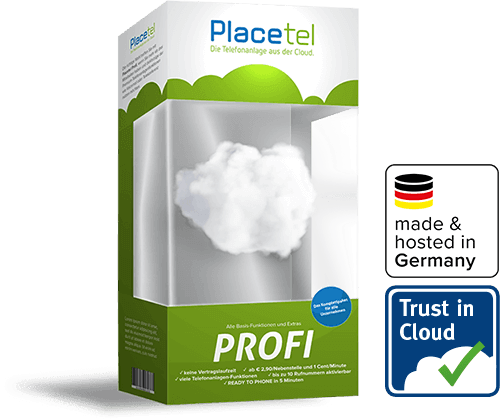 The ideal telephone system for your business telephony
100% from the cloud: Hardware no longer necessary
Quick start: Manageable online at any time via the web portal
Highest flexibility: Reachable anytime & anywhere - also mobile
Unbeatable cheap: 50% cheaper than your ISDN system
Maximum freedom: Can be expanded as required and canceled on a monthly basis
Test it 30 days for free
7.2 Price and provider comparison
Low battery life, clunky design, poor call quality: you can go wrong when buying a DECT telephone. So that this doesn't happen to you, we have selected two very good test reports for you. There is a great comparison of the various DECT models, for example, from Computerbild from May 11, 2018 and from AllesBeste from May 4, 2018.
Computer image compares, among other things, in its test:
the ease of use
the range of functions and various extras
the quality of the call
the battery life
Also included in the review is a list of the best DECT phones. Under the TOP 5 cordless phones are located:
1. FRITZ! Fon C5
2. Gigaset CL660HX
3. Gigaset SL450 HX
4. Gigaset C570HX
5. Panasonic KX-TGQ500GS
AllesBeste provides a comparison with a direct price comparison.The AVM FritzFon C5 is also touted as the test winner, but only if you have a FritzBox with DECT function. Also at the forefront is the Telekom Speedphone 11, as well as the Gigaset CL660HX and Gigaset SL450 A Go.