Are you living your dream?
Do you have a wish list about things that you always wanted to do in life? I have one of these and find it extremely useful. There are so many great opportunities to make your life beautiful that you forget one or the other or take a back seat in everyday life. I started such a list when I was traveling through Brazil for 3 months: At each place I asked myself, what I've always wanted to do and fulfilled my wish mostly too. This list will of course be continued continuously, because thanks to you and other bloggers, the ideas never run out. At home, the exclamation "I have an idea….!" Comes up against a roll of the eyes and an ironic "Oh no…!" 😀
Dreams are there to be realized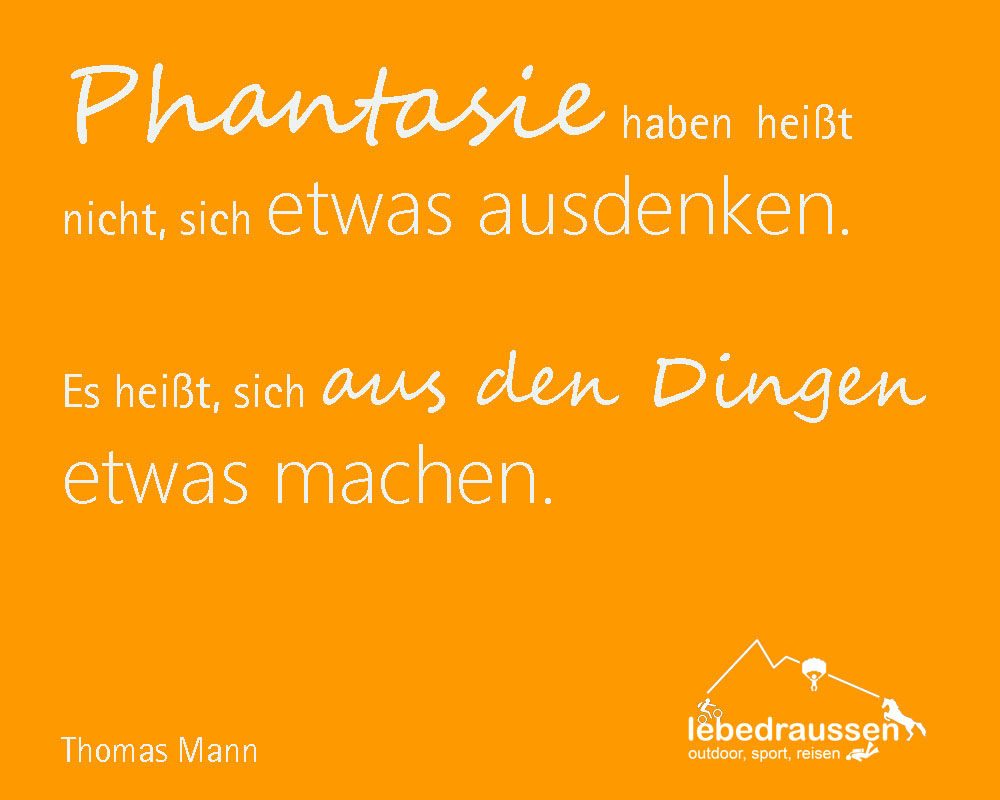 I think it's incredibly important to dream. People without dreams are people without hope. Like zobies who go through the world under external control and without a vision and only function. But dreams are also there to be lived, otherwise they remain forever unreached and make you unhappy.
What are you dreaming of and have you already realized it?
Life is short and too good to do the same thing every day. I have put together many things for you that I dream of and have already implemented. Maybe they inspire you? What have you always wanted to have done?
# Multi-day trail ride, for example in Scandinavia
Since I started riding again and discovered trail riding for myself, I've always wanted to go to Scandinavia, and there preferably to Norway. I've never been so far north, but I imagine the landscape to be beautiful and diverse. Breathe in and absorb this landscape on horseback for several days, yes, that would be really fantastic. Until then, I will discover the beautiful nature on my doorstep with great trail riders.
# Multi-day canoe or kayak trip in Canada
A boat, a tent and lots of nature around it - and that over several days. That must be incredibly beautiful. And above all to have one thing: an infinite peace and quiet. So that I don't have to wait so long to get this feeling, I make this dream come true in day trips on kayak tours. It is clear that this is not a substitute. But it shortens the time it takes to get there 🙂
# Gallop down a meadow on a horse without a saddle and only wearing a neck ring
A dream that is within my grasp. What many do not know is how difficult it is to fulfill this dream: You have to have a very good balance when riding, be able to give very good help and have a horse under you that you trust and that you trust yourself. For the optimal balance I take riding lessons and to build trust I practice natural horsemanship (for example here and here).
# Fly a fighter jet
When I was 10 or 11 years old, I was drawn to a Bundeswehr exhibition that took place near our school every day. There was a tornado there that fascinated me incredibly. Of course I couldn't fly it, but this dream has not let go of me ever since. The desire to work for the Bundeswehr in the air force was quickly dashed and I NEVER wanted to become a medic. In retrospect, that's completely ok: D. Trotdem: To fly a fighter jet this time, that would be it 🙂
# Dancing on a flying plane
Wing walking - since I heard about it, I want to do it: Buckled up on a sports airplane, you stand on the wings during the flight and let yourself be shaken. How crazy must the feeling be to feel the wind in your face high up and to look upside down at the earth during loops ?!
# Sleep one night in the tree house
I now know of tree house hotels that offer such an overnight stay, so that would be a wish that could easily be realized. Let's see when the time comes 🙂
# Do somersaults weightlessly
I can already fly, but how ingenious does it have to be to be weightless? Will it then tingle in your stomach as if you were racing downhill on a roller coaster? I would love to try Zero Gravity or parabolic flight for myself.
# See the earth from (very far) above
A dream that is as far away as the stratosphere itself. Either I will win the lottery soon or such a flight should be much cheaper (and I will live a damn long time accordingly). But you can still dream!
---
How much courage does it take to make your dreams come true?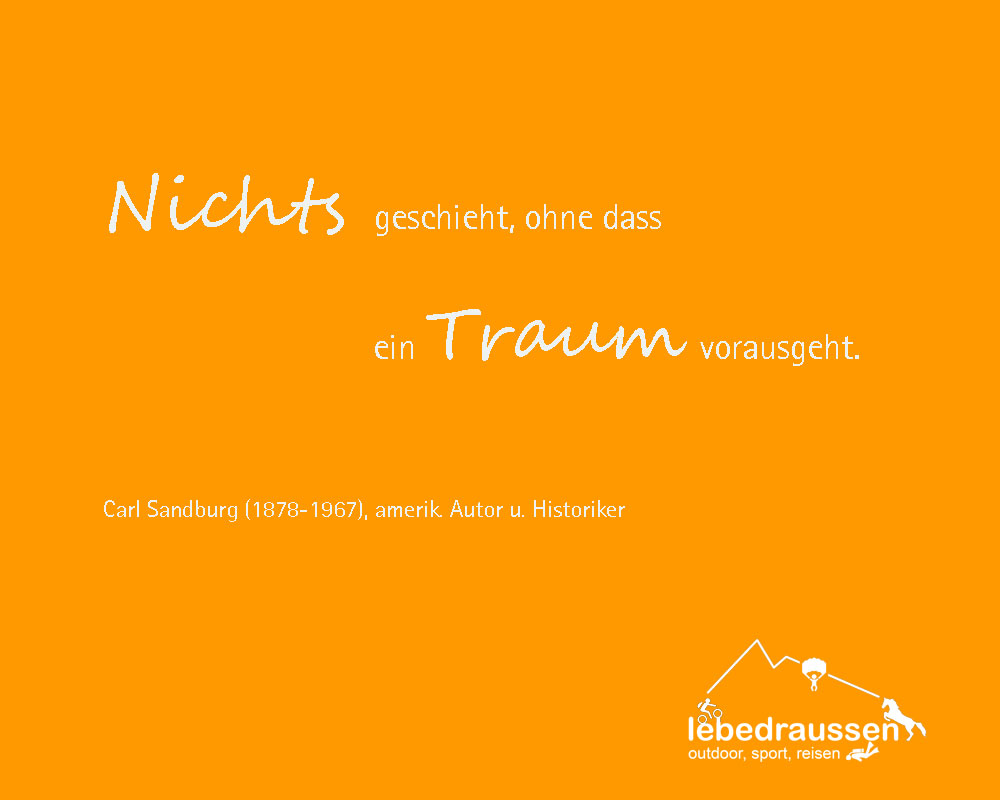 Sometimes it takes a little courage to say: I'll just do that now. When I was once in the Dominican Republic, for example, some tourists were afraid of moving freely outside the facility. When I was traveling alone through Brazil, the question always came up whether I would not be afraid to travel alone through a country that seems to be full of crime. Your own trust in yourself and your ability can decide on a yes or no - and if only one no, you have to reckon with an "oh, if I would have ..." at some point.
It scares me that I haven't done something that I wanted so much to do.
I can only advise each of you: Live your dreams. Invest in your health to be / stay fit. Find ways how you can afford them financially. And don't look at the problems straight away, because as a beautiful saying goes:Something beautiful can be built from the stones that are in the way. These stones are always there, the only question is how to deal with them.
Dreams realized so far (excerpt)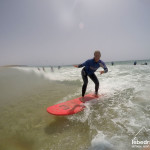 Ride a wave
Surfing along a wave only with a board - this idea caused me a certain longing. In summer 2015 it came true when we went to Fuerteventura to surf camp for a week. It was an exhausting experience that I prepared for - and that was a good thing 🙂
---
Galloping along a lonely beach on horseback
I fulfilled this dream on June 30, 2014 in Brazil. I went to Pipa on the spur of the moment, a surfing beach near Natal in northern Brazil. There I booked a 4-hour horse ride, the paths of which led through rivers, over meadows, past villages and also along lonely beaches.
---
Speak Portuguese fluently
For years I had felt a great need to be able to speak Portuguese properly again. Unfortunately, I was denied a bilingual upbringing, but I made up for it in 2014. It is now working quite well again and that is simply fantastic! Reading tip:9 tips for learning a foreign language
---
Drive through wild waters in a rubber dinghy
Raft! To make this dream come true, everything had to be right, especially the water temperature 😀 As luck would have it, I spontaneously received the tip that you can go rafting in Jaciara (Brazil). I even skipped the World Cup final between Germany and Argentina on July 12, 2014, they got along quite well without me 😉 I would do it again anytime, it was an unforgettable experience!
---
Heat through rapids in a kayak
Water is an awesome element and I really like to glide on it with a ship or boat. But I imagined the kayak as a real highlight that meanders through the rapids. June 17, 2015 was a wonderful day for a tasting, which I enjoyed with my better half with a small tour in a double kayak. In 2016 I even learned how to solo kayak and have toured here and here. That definitely makes you want more, so a multi-day kayak or canoe tour is due at some point.
---
Take time off / do a sabbatical
A few years ago I got to a point where I didn't know what to do next. Somehow everything bored me. My job, my life and the thought that this cannot be changed if I don't emigrate soon or at least leave for a year. I talked to my boss and my significant other. After lengthy discussions, I did one thing: a 3-month break in Brazil. And it was the best thing I've done in my life. Live outside too! emerged from it. Would I do it again? Sure, of course! 🙂
---
Memories are the colors in your life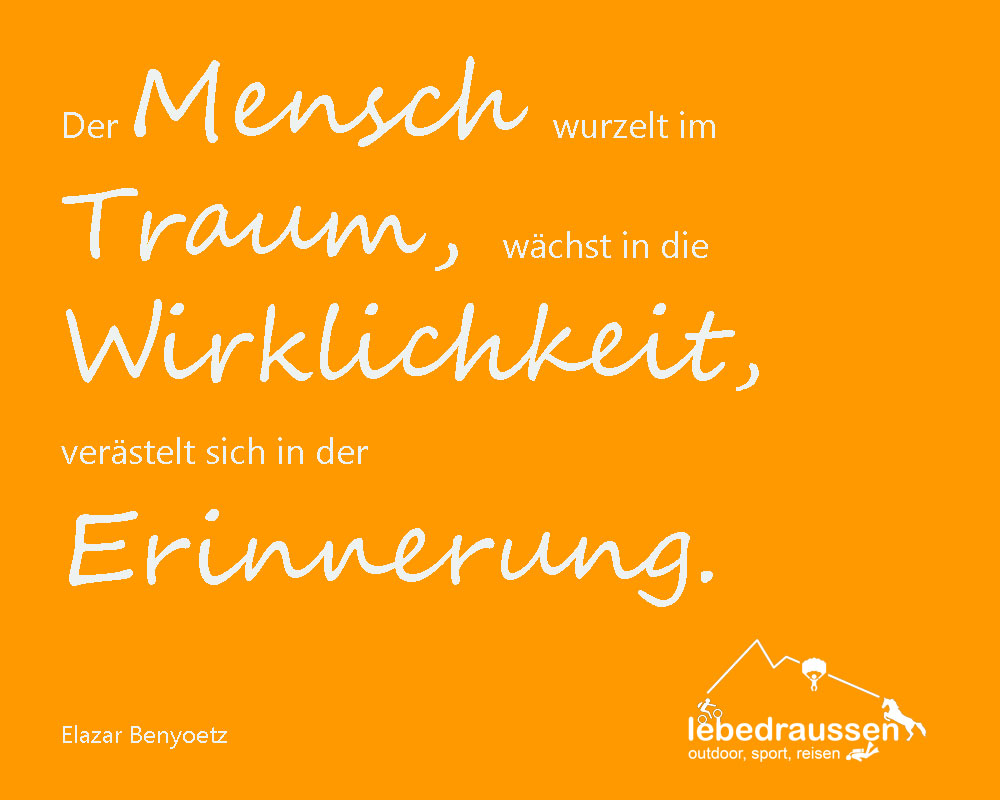 One day on my trip I was in the middle of rush hour in a subway in São Paulo when someone asked me: "What colors are the souls who sit in this subway?". I saw people who were obviously tired and either kept their eyes closed or were playing on their smartphones. "Black" was my answer. "And what is your soul color?" He asked me. "My color is bright red," I replied. "But sometimes also orange or green." "It depends on the situation," he said.
The more memories you have, the more colors and nuances will your soul and thus your life have.
What are your dreams that you still want to realize or have already realized?
Let us share your thoughts in the comments 🙂
About The Author
Bianca Gade
I am German-Brazilian, adventure junky and live in Saarland. Traveling and hiking are my great passions, plus paddling and horses.